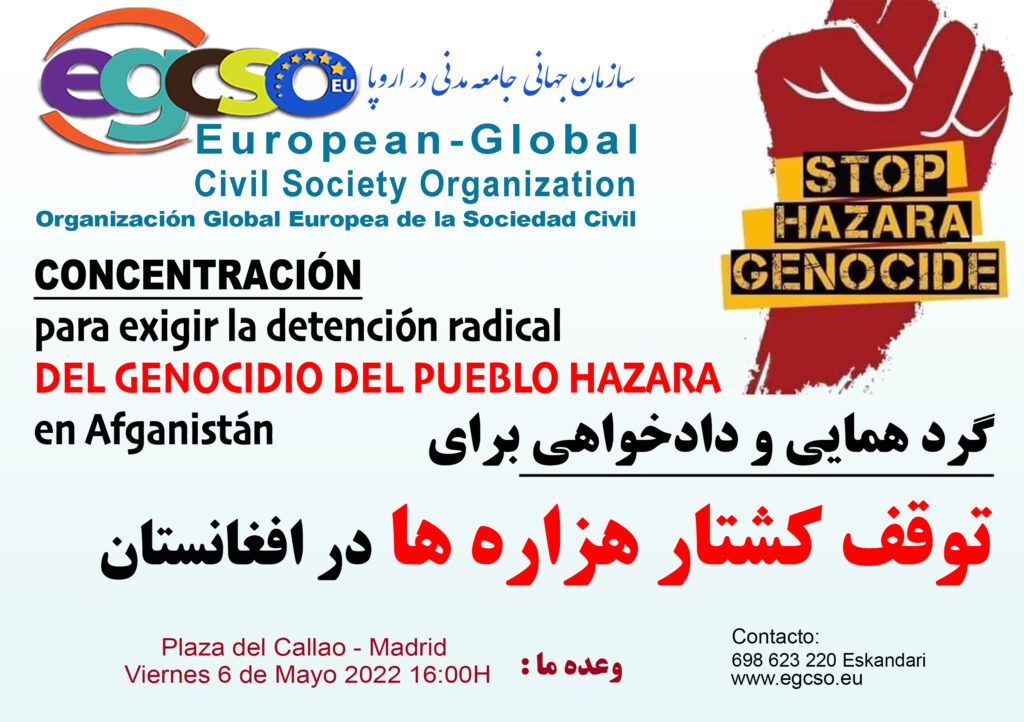 Concentración para exigir la detención radical del genocidio del pueblo Hazara en Afganistán
گرد همایی و دادخواهی برای توقف کشتار هزاره ها در افغانستان
اسپانیا - مادرید
وعده ما روز جمعه 6 می ۲۰۲۲ ساعت 4 عصر
Plaza del Callao - Madrid
Viernes 6 de Mayo 2022 16:00h
Contacto: 698 623 220 Bashir Eskandari
_________________________________________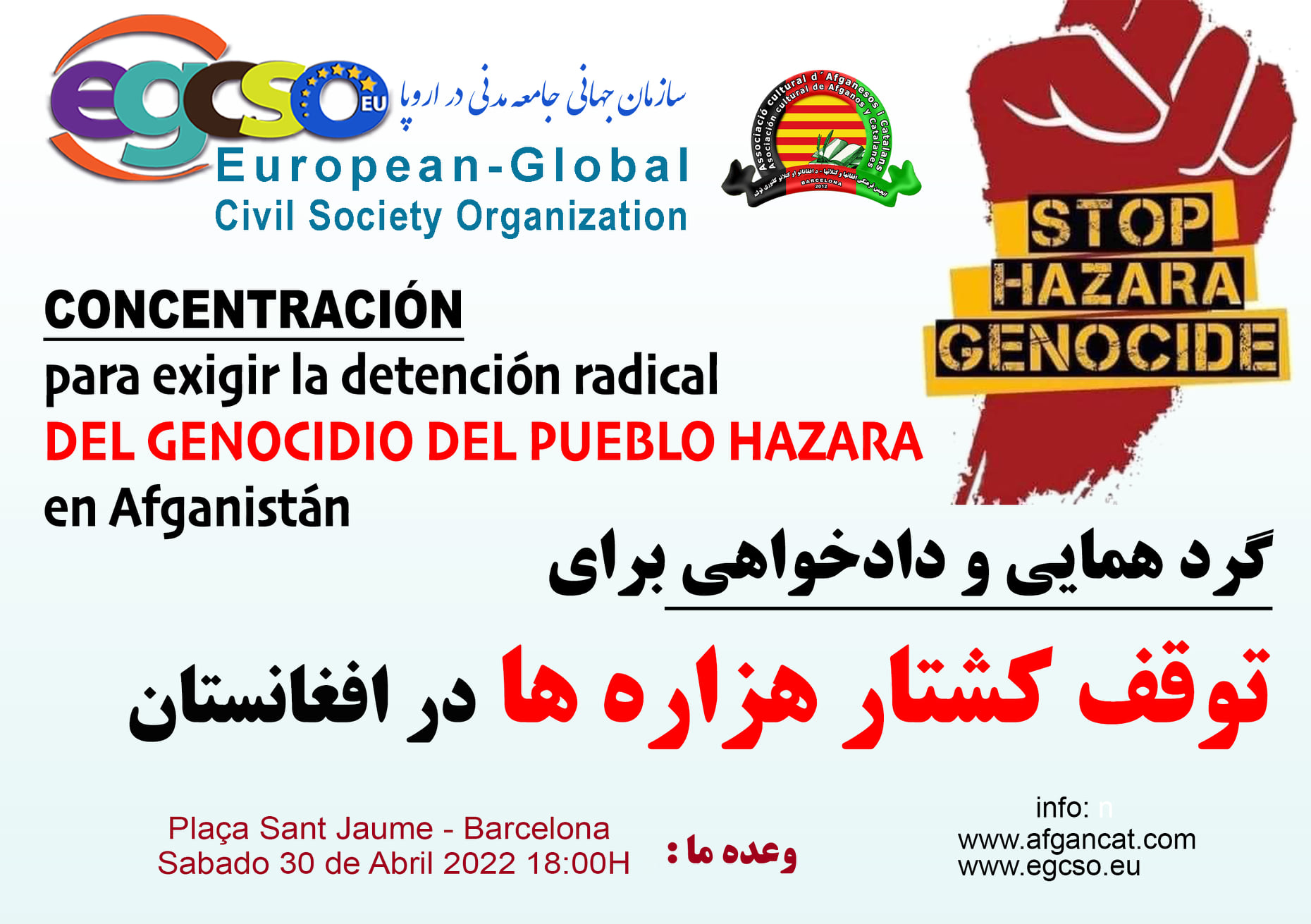 Concentración para exigir la detención radical del genocidio del pueblo Hazara en Afganistán
گرد همایی و دادخواهی برای توقف کشتار هزاره ها در افغانستان
اسپانیا - بارسلونا / مادرید / والنسیا / مایورکا
وعده ما روز شنبه ۳۰ آبریل ۲۰۲۲ ساعت ۶ عصر
Plaça Sant Jaume - Barcelona
Sabado 30 de Abril 2022 18:00H
www.egcso.eu
www.afgancat.com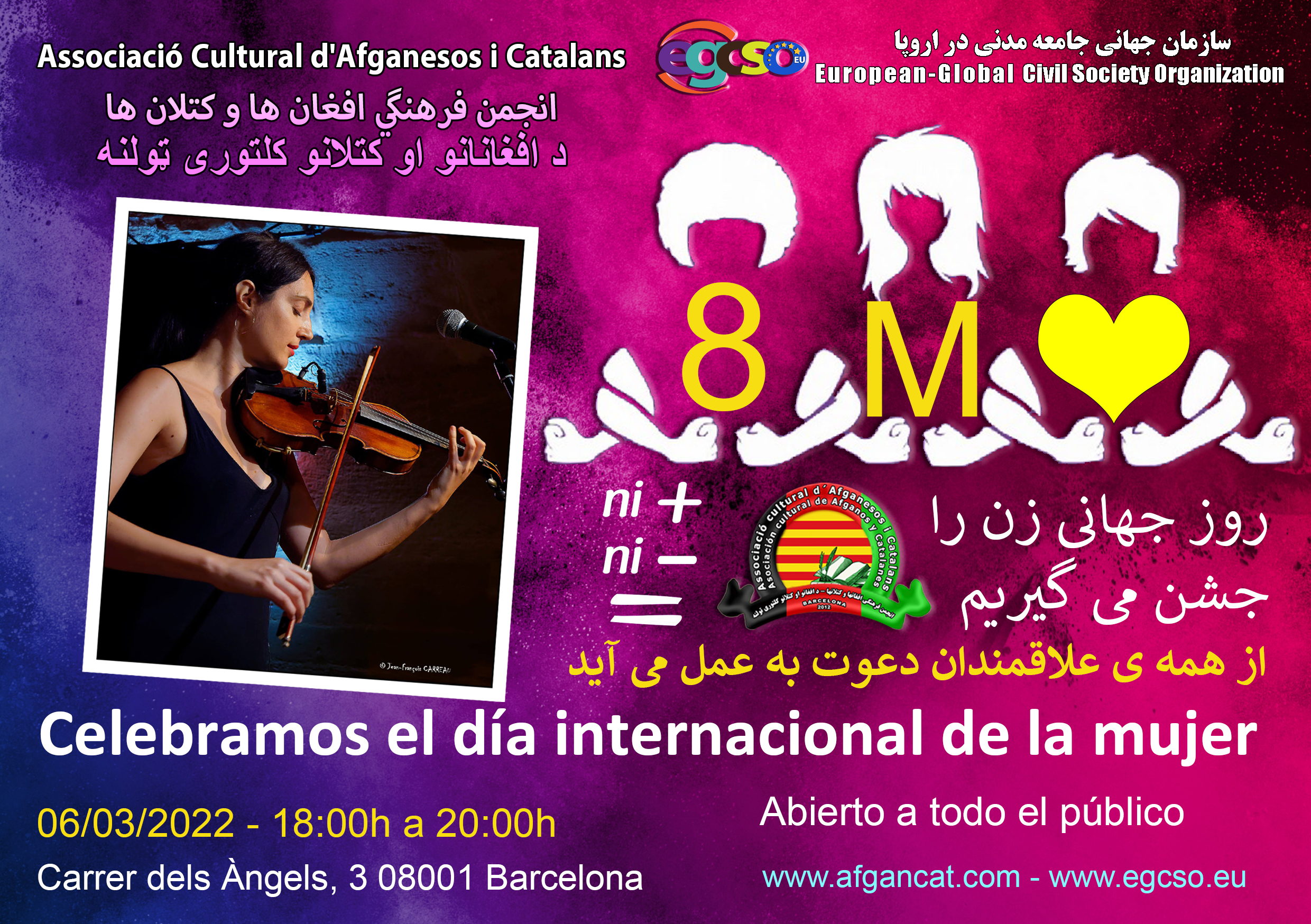 Celebramos el día de la mujer
Abierto a todo el público - 06/03/2022 - 18:00h a 20:00h
Press Release
THE SITUATION IN AFGHANISTAN TWO MONTHS AFTER THE TALIBAN CAME TO POWER
(IN COLLABORATION WITH THE EUROPEAN GLOBAL CIVIL SOCIETY ORGANIZATION)
It would not be an exaggeration to start this press release by summarizing the mood in Afghanistan, as one where people have lost hope. This is because the Taliban is a terrorist group known all over the world for its barbarity, but above all for the core of its ideology which is nothing more than the use of violence against domestic and foreign adversaries with the immediate consequence of killing thousands of people.
Please join to electronic petition signature a  Global Call to Action to Safeguard two decades of Achievements in Afghanistan to UN Secretary General António Guterres. Please click the button below:
به کمپین دادخواست امضای الکترونیکی برای حفاظت از دو دهه دستاوردهای افغانستان در مذاکرات صلح به دبیرکل سازمان ملل متحد آقای آنتونیو گوترش بپیوندید . لطفا دکمه زیر کلیک کنید.
European-Global Civil Society Organization
Associació Organització Global Europea de la Societat Civil
Asociación Organización Global Europea de la Sociedad Civil
سازمان جهانی جامعه مدنی در اروپا
We work by analyzing the situation for refugees and migrants, providing information and working together with active members, human rights activists, refugees and motivated youngsters from different countries and nationalities to change refugees' and migrants' lives for the better.